Find Your Flow? Podcast Club

The Podcast Club is the place for New and Expert Podcasters to Connect and grow your podcast!
How To Create, Publish and Monetize Your Podcast ? Even If You Never Thought It Was Possible
Bookmark this page to stay up-to-date with the latest and greatest tools and resources for recording and publishing your own podcast!
PUBLISHING
When it comes to publishing your podcast, you have many options.
Podcasting can be a challenge, the tech to publish, to record, to do post-production, etc.
The fastest easiest way is using a plugin through WordPress called Seriously Simple Podcasting.
It has Seriously Simple Stats plugin for stats.
It's easy to use, very basic and FREE!
Then there are more advanced options.
As you scale, if you ever intend to monetize your podcast, you may want the ability to change your "commercials" or intros/outros.
If you have to go back and do that for multiple episodes it gets very time?consuming and costly quickly.
So there is one platform called Anchor, that supposedly allows you to put your own commercials on your content and update it. I signed up for a free account, but couldn't get it to work the way I wanted.
Then I found this one:
(*please note that I fell in love with this platform and now have a partnership with bCast and if you sign up I may be compensated but it won't cost you anything extra)
So far I am VERY HAPPY with it!!
It is pretty easy to use, has a ready to go built website that you can use a custom domain with right out of the box, it has better tracking, AND you can change the intro/outros of all or some episodes whenever you want, so you can update offers!!!!
That alone is HUGE.? That was what I was trying to do with Anchor but it was very difficult maybe impossible to do.
I was paying the cheapest I could work out, a VA to add my intro/outro and applause for $6 an episode, 10 at a time. But I still had to upload them to
fiverr
, download them when he finished, upload them to my website, create the art, write the show notes, etc.
It was a pain in the behind!
-Update: 6/18/2021 ——-
I was having issues with the commercials (intros/outros) but then figured out it was user error.? Once I fixed that, it has worked great!!! AMAZING!!!
MONETIZATION & GROWTH
If you are ready to grow and monetize your podcast, then its time to step it up.
These guys are the real deal! And super nice and cool too.
They are local San Diego guys I met at a marketing meeting, and they have been on stage at Traffic & Conversions and Podfest. I got their program last year to take my podcast to the next level!
These guys are super cool and down to earth and you can get access to their Podhacker Facebook Group and chat with them and their community!
DIY PODCAST TOOLS:
Designrr? This is a very powerful tool that I use to re-purpose content into books, blog posts and marketing materials.? It streamlines the process and?saves you TONS of time and MONEY?because it can replace stacks of other apps.? That means you save time from jumping from app to app to app. Plus, as you grow, you may want to build a team that can help you publish your content.? Definitely consider getting the package that includes transcription.? I did and it has saved me hundreds, if not thousands of dollars and more hours than I can count.
Canva???Great free photo editing tool!? I create?SO MUCH STUFF?with this app!? The Find Your Flow blog art, Find Your Flow Podcast art, .TV show art, book series art, you get the idea.? It is pretty intuitive to use and really powerful. I can?t recommend it enough.
Rev.com?? This is a great place to get professional, high quality transcription done very quickly and easily.? They charge $1 per minute of audio.? I personally have not used them but I have plenty of colleagues that do.
Fiverr.com?? Get your book cover, transcriber, editor and promotions done with the secret weapon of all secret weapons!? Outsourcing, delegating, hiring, etc. can all be done through Fiverr.? You can build your team to help you write, publish and promote your book!? The cool thing about Fiverr is its cheap, starting at Five bucks, hence the name.? You can find thousands of freelancers there to do stuff for you.? Be sure to read reviews.? For design stuff you may need to go through a few designs or Fiverr?s to find what you?re looking for.? It?s part of the process.? It does take time to manage and follow up and what not, but you can save yourself a lot of money building your own team and managing them yourself.
Voice Record Pro ??This is an app on iPhone that I use. I have an iPhone X which I LOVE!!!? I went cheap with my last phone, ( I go middle of the road or cheap with many things, I like to hack things to get it done cheap.)? However, there are times and places that I have learned it actually costs MORE to go cheap! But that?s a different story? Anyway, I record my podcast using that sweet little app.? It is AMAZINGLY simple and POWERFUL!? I can record, include the name, highlight it in different colors for organizing, and upload straight to Google Drive.? That?s how I get it to my team. Then my podcast producer takes it and does the post-production.? So all I have to do is record my show and then upload to the cloud and call it a day?
Acadium:?Get an intern!? Or two!? I?ve always had challenges trying to get an intern.? For years I watched as my fellow entrepreneurs hired and trained interns for a Win-Win that provided valuable real life experience for the intern and a huge opportunity to learn to hire, manage and train your team to help you publish and promote your book. After striking out for years and finally giving up on ever getting an intern, when I learned about Acadium it was recommended by some very smart entrepreneurs I know and I decided I?d give it a chance.? Within 24 hours I had TWO interns lined up to start working with me!!!? It was an amazing experience and after the first two internships ended I hired a third intern.? It wasn?t always easy, but I learned a lot about hiring and trainining, two areas that I had very little experience being a solo-preneur. Hiring interns through Acadium took my business to the next level.? I would highly encourage you to check it out.? BE AWARE though, they are looking for experienced, successful entrepreneurs to line up for their interns, so if you are brand new this isn?t a good way to go yet.? This is if you are already running a successful business and want to scale or add additional products/services, books, etc.
Please note:?Some of the links here are to our partners and affiliate sites.? We may receive sponsorships or fees if you decide to invest in any of these products or services. Also, it supports this website!? So it is much appreciated!
---
Website, Funnels, Hosting Solutions
FindYourFlowFunnels
Find Your Flow Funnels Demo Account:
Password: FindYourFlow123!
You can learn more, but the site isn?t done yet, sorry, coming soon: https://findyourflowfunnels.com
BUT, here?s the basic rundown?if you know anything about Clickfunnels, it?s awesome right? But maybe you are looking for an alternative. Maybe something just as awesome but even MORE awesome because it is more affordable and has email autoresponder built -in at no additional cost (or use your own- integrates with most autoresponders).? Also, NO LIMITS!? Build UNLIMITED FUNNELS!? That?s pretty amazing right?? If you are ready to learn more reach out through the Messenger in the bottom right corner and we can chat about options that might be best for you.? During the pre-release period I?m doing $197 one-year unlimited on one domain!? Add each additional domains for just $97/year which includes built in email autoresponder service.? Just for the first 10 people so hit me up asap if you want in!? I will request a testimonial though
ClickFunnels
ClickFunnels Challenge!? ?Check out one of the most powerful online marketing funnel platforms in the world!? ClickFunnels set the industry standard.? I (Winston) personally used ClickFunnels for a little over a year for a business I had selling an info product in the real estate niche.? It was beautiful and functioned well and I really liked everything, except when I tried to expand into other products and services.? I wanted to add more domains, but at the time, I was maxed out and would have to go from $97/month up to $297/month.? Well, I?really?wanted to build all my stuff in my head just to get it out of my head, but, I was already paying for Infusionsoft(Keap), plus a payment process, plus this, plus that, and all together I was spending over $600 a month and I wasn?t selling ANYTHING!!!!? Finally, I?d had enough.? I knew that I?d have to start over. It was heartbreaking to throw so much money down the drain with nothing, NOTHING to show for it.? Except maybe some pretty valuable experience. It forced me to spend the next several years trying to figure out how to build mutliple, scalable online businesses at once on a shoestring budget.? Ridiculous?? Absolutely. Probably no one would advocate doing it this way, but I simply HAVE TO. It is not an option for me.? SO, that?s how I went on this years long journey of trying to understand the ?Tech Stack? so that I could build the businesses of my dreams.? ClickFunnels is a fantastic service and I feel good recommending it because I know that you will get great service and a great product.? That said, I also want you to be able to make the best choice for your goals and that is why I have put it along side these other options.
GrooveFunnels
GrooveFunnels?is a free funnel builder!? It?s great if you are brand new to building funnels or squeeze pages and you just want to get started.? The great news is that you can sign up now and get a free account to build your funnels. As you? progress, if you want to add email autoresponders, webinars, e-commerce, etc.? If you have a 3rd part email service such as Aweber or Mailchimp you can integrate it with GrooveFunnels.? If you don?t then you may consider upgrading to the paid version of GrooveFunnels which will include (not available at the time of this post) email services.? This is nice if you want it all in one place.? The downside is that it won?t be terribly cheap.? Once you get up to the paid level you?ll be looking at $97-$297 a month.? Not horrible if you are a pro and you know what you need and you?re using it.? The challenge that I see with business owners time and time again is that they get a full beautiful system but don?t know how to use it, or take so long to get up and running that by the time they do they already spent all of their money just getting it set up and then have no money for marketing.? This is one of the big differences between a service like GrooveFunnels and FindYourFlowFunnels; FindYourFlowFunnels is setup for non-marketers and non-tech people to be able to get up and running with all the tools they need, without being upsold to access more features.? That way you don?t get a mile down the road only to realize that you built your entire business on a platform that you can no longer afford.? That?s no fun!? Ask me how I know?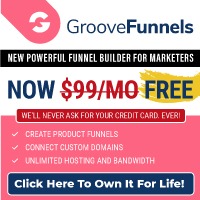 Hosting ? WordPress, Weebly, Wix and other Website Builders
If you are a WordPress user or other website type and you want to do it yourself for cheap, check out:?https://findyourflowhosting.com
---
Market Your Podcast
Traffic Secrets?by Russel Brunson
---
Related Products
21 Day Online Marketing Challenge
---